10 Help Desk Challenges & Concerns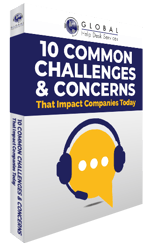 Get insight into the most common challenges with today's corporate help desks and why they explore outsourcing.
In addition, you will get a self-assessment checklist to evaluate and understand your organization's help desk to make recommendations to streamline processes and save costs.
Simply fill in your information to access the eBook and self-assessment immediately!
---
What's Covered in the eBook?
Covered
For more than 20 years, we have been working with global clients to optimize their help desk function. While the struggles and frustrations are unique to each situation, time and again, the same 10 common pain points top the list. Download our eBook to determine how many of these common pain points your organization faces, and how you may be able to solve them.

Challenges & Concerns Closer Look
Evaluation and Advice

Self-Assessment Checklist
Still Interested? Access the E-Book