Learn how to gain a more complete picture of your help desk return on investment (hint, it's not just financial)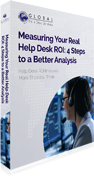 When it comes to assessing the ROI of your help desk (and any investments in it), it's crucial to have the full picture.
If you're only focusing on direct financial ROI, you're missing out on a lot of vital information.
Gain a clearer understanding with our new guide, Measuring Your Real Help Desk ROI: 4 Steps to a Better Analysis.
Improve your ROI by answering the 12 vital questions that uncover the true return you are generating (or hope to generate) with your help desk.
Discover why help desk ROI goes way beyond simple financial returns
Learn how to justify every investment decision you make by calculating the four areas of help desk ROI (we walk you through it step by step)
Discover how your help desk ROI touches on productivity, customer satisfaction, performance and plenty more